Voyage on the 50'/15m expedition sailboat Issuma to stunningly beautiful, challenging, remote and wild places – some of the most forbidding wilderness areas on earth.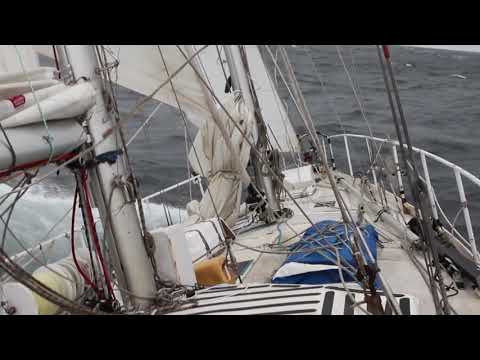 Our voyages are for people looking for adventure, not comfort. For those who really want to do something different, something challenging, that takes them out of their comfort zone and instills a sense of exhilaration and accomplishment.
We're about purpose, not luxury. We have foot-pumps for drinking water and seawater (for washing dishes). You get hot water by putting the kettle on the (propane) stove.
The sails are raised, lowered and reefed with ropes and manual winches.
Everyone aboard shares in the operation of the boat. While previous sailing experience is not required, a willingness to learn and grow is. Extensive and individualized instruction by an experienced captain is included.
---
---
2023-2024 Adventures:
July 4 - July 18, 2023:
_Twillingate, Newfoundland, Canada to Nuuk, Greenland, 14 days, _
An offshore adventure sail. Expect to see giant icebergs, mountains, whales, seals, fog, waves and wind.

July 25 - July 31, 2023:
_Nuuk, Greenland to Ilulissat, Greenland, 6days, _
A stunning coastal sail from Greenland's capital, Nuuk to the scenic, iceberg-dense Disko Bay. Expect to see giant icebergs, mountains, whales, seals.

August 1 - August 7, 2023:
_Ilulissat, Greenland to Nuuk, Greenland, 6 days, _
A stunning coastal sail from Greenland's capital, Nuuk to the scenic, iceberg-dense Disko Bay. Expect to see giant icebergs, mountains, whales, seals.

August 10 - August 31, 2023:
_Nuuk, Greenland to Azores, 21 days, _
A stunning coastal sail from Nuuk to scenic Prince Christian Sound and then to Azores. Expect to see giant icebergs, mountains, whales, seals, waves, wind, temperatures from cold to hot and sunny.

November 8 - November 22, 2023:
_Azores to Madeira to Canaries, 14 days, _
Combination of island hopping and ocean passages.

January 9 - January 31, 2024:
_Canary Islands to Bermuda, 22 days, _
A long ocean passage, with moderate to light winds, mostly warm and sunny.

May 29 - June 6, 2024:
An ocean passage from the warmth of Bermuda to blustery St John's, Newfoundland, 8 days
---
What other people have said:
Jesse Fradken:
I have had the great pleasure of knowing the high latitude adventure sailor Richard Hudson for quite a number of years. I can well attest not only to his extraordinary accomplishments as a sailor over the course of his life, I have been the first hand beneficiary of his extreme competence, careful planning and all around genial character in the course of sailing with him on daysails and longer sails as well.
Richard makes it his business to ensure the seaworthiness and safety of his vessel, as well as the happiness of all who sail with him to the best of his ability which is absolutely world class.
His current vessel is unique to my experience. A fifty foot steel hulled schooner specifically purchased because of its hull shape and construction to not be crushed by ice were it to be frozen in the Arctic or Antarctic regions. Sadly, this may be much less of a concern than it was when he purchased Issuma, also replete with a lifting keel.
My name is Jesse Fradkin, and I once had the unique pleasure of being crew onboard a Pearson 424 which received the Hanson Award from US Sailing for rescuing a father and son forced to abandon their burning sailing vessel fifty or so miles off Cape Hatteras, while delivering the Ketchyalater from Fort Lauderdale to Stamford. I have many tens of thousands of offshore nautical miles under my hulls, and have had the pleasure of sailing to the Caribbean and Bermuda multiple times, as well as to Mexico. I have cruised the East Coast many times, and raced in many Vineyard Races, Block Island Races, and many competitions on the Long Island Sound over the course of many years.
Nothing I have done really compares with the extraordinary adventure sailing Richard has done, some singlehanded, some with inexperienced crew he diligently taught with unerring patience, in places on the planet I still long to sail.
I was privileged to be aboard the magnificent ship the Mystic Whaler with Richard when he was presented by the American Schooner Association with a special award they had created for him, and had to wait two years to give it to him because unsurprisingly he was off sailing on a multi-year long distance adventure.
Do not think Issuma will be luxurious cruise ship cruise. It is a unique vessel, not new, eccentric in her way as a boat built to take on the oceans of the world virtually anywhere without complaint. She lacks the comforts of modern cruising sailboats, and will never be mistaken for a racer.
Richard and his stalwart vessel will get you to places those other boats would not only fear to go, he will get you there with the ease of long experience, hard work and bravery that will enable your easy peace of mind when sailing with him, whether a day sail or an expedition.
I wouldn't expect less from a descendent of the navigator of the Shackleton expedition's historic tale of ultimate survival and triumph over disastrous circumstances.
---
Carolina Asencio:
I sailed with Richard in 3 opportunities in the south of Chile and Patagonia as well.
I have sailed in different sailboat in the past 2 years and I can say this yacht has been the best boat that I have ever sailed.
Richard has so much experience and he has a lot of patience to teach, he gives clear instructions, I felt really coordinated with the rest of the crew, we had excellent comunication with each other, I saw the most amazing landscape in this boat,
Richard taught me to do the shore lines, whipping, splicing and how to tie more knots. It was an incredible experience! I felt like I was in a sailing school..
I really hope to be crew on his yacht again!
---
Max Monsler:
I joined as a crew on the 17th of November 2014, in Puerto Escondidio (Loreto), Baja California in Mexico, and left in February, 2015 in Puerto Montt, Chile. And honestly, I was a bit nervous at start, seeing those two big masts and all the halyards and sheets.
But it all settled in, thanks a lot to Richards great patience, calmness and happiness in sharing his knowledge! I early on told him my admiration and deep respect for this. In these months I have got so much practice on sailing, and I do for sure have a crush on it! Richard always has an ear open for your questions and he is a great captain. He is obviously telling you how/where things have to be, but is always open for an discussion/consulting. Not at all a classic; command-you go scrub the deck-captain. He treats is crew with humbleness and makes sure they are feeling the team-spirit
If a full on adventure is what you are looking for, great sailing practice, alongside good conversations and laughs, than Richard is the Captain to talk to.
---
Diesel:
Richard's vessel was my best experience on coastal expeditions so far. It might have been the wonderful places we were cruisin on, in Chilean patagonian fiords and Chiloe island, or it might have been the easy going relation we all had onboard. Richard would share his extensive knowledge and experiences with us at all levels, would share his goods and would always have a nice mood,
Once I knew how to handle his boat a little I really felt part of the crew and we were a team. I highly recommend this vessel and captain, as the experiences with them will be nice for sure. Thanks Richard.
---
Adnaan Stumo:
Richard is an experienced sailor and an enthusiastic teacher. I have easily doubled my knowledge of maritime affairs in the two short months I have spent crewing with him.
---
For more information, or to book your adventure, email adventure AT issuma.com